NOTE: Analytical system backlog is approximately 30 work days at this time, so please accept our apologies for delays in advance.
Excalibur Mineral Corporation has a complete Scanning Electron Microscopy and Energy Dispersive Spectroscopy laboratory in its Charlottesville, VA facility. Our services provide a rapid and reliable means of chemically characterizing any solid material, identifying the presence of even minor amounts of any element in the periodic table from carbon upwards (no hydrogen, helium or lithium etc.. detection). This process is non-destructive, and only an extremely small quantity of material is needed. Our services do not include trace element analysis, light element (Beryllium and Boron) quantification or characterization of liquids, however.
We apply this expertise primarily to mineral and gem identifcation for collectors and researchers, but we can also offer these services at very competative rates to non-mineral industrial users involved in failure analysis or contamination characterization. Excalibur is the only retail mineral supplier in the United States that has this capability in-house, and this enables us to rapidly confirm materials offered in our rare species listings and current catalogs of mineral specimens for collectors.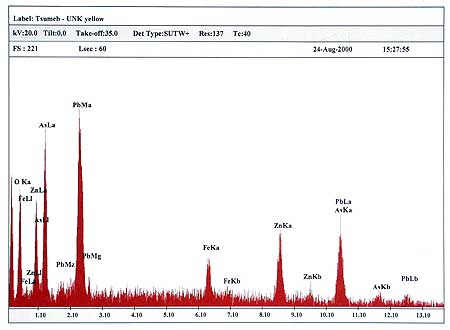 A typical analysis includes an EDS spectra, ZAF corrections, and standardless quantification of elements by weight percent. Where feasible, our report will also name the mineral species analyzed, or provide a list of likely alternatives if chemistry alone is insufficient to completely characterize the mineral.
The cost for a typical report is $49.00; this excludes any special specimen preparation requirements, return shipping or other special handling needs that may be requested.


Click here for browser printable order form!!!
Instructions for Submitting Specimens for X-Ray Microanalysis
SERVICES: Rough material, including micro crystals on matrix, gemstones, powders, massive minerals or fragments, will receive a full, non-destructive qualitative analysis as well as a computer-derived, standardless semi-quantitative analysis. When feasible, we will suggest precise mineral ID with your X-ray spectra.
LABELS: For each specimen to be identified, please prepare a label, and if you have a suspected or suggested mineral in mind, include a species name followed by (??). This will enable us to more quickly confirm or deny a tentative identification. Specimen locations are important, so please include specific locality data; a brief description (color, habit etc..) of the unknown should be included on your label . Follow the instructions regarding specimen sizes and markings. Please use a copy of our "Services Requested" below, indicate the services desired, and include your check or credit card info with your order. Sorry, no C.O.D.'s.
SPECIMEN SIZES: Smaller is better! We require a pinhead size or less for our analytical work-ups. Please do not submit material larger than 2.5cm x 2.5cm x 1cm deep if possible. Larger specimens will be trimmed and the excess discarded unless specimen preparation charges for extraction are to be billed. Since we are working at micron levels, there is no minimum size required for our analytical services. If you can see it, we can analyze it! Please do not send samples in capsules, envelopes or padded envelopes. They are invaribly crushed and/or lost in the mail handling process! Use a box, please!
SPECIMEN MARKING: The area to be analyzed should be clearly marked and described. In addition to providing a brief written description on your label, we strongly suggest placing two small opposing arrows on the specimen that pinpoint the material to be checked if it is not readily apparent.