MINE BUILDING MODEL - Ore Bin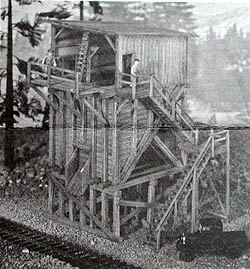 This interesting ore bin model is one of three that stood along
the Rio Grande Southern right of way, used to deliver the
carnotite derivative "yellow cake" to the reduction mill at
Vanadium, NM. A challenging wood kit with over 215 parts, this
will take many hours to carefully assemble, but it is complete
with step by step instructions, templates and bags and bags of
wood and styrene parts. A tough one, but a superb model in 1:87
scale at $51.95 plus shipping.