2020 SHOWS:

All shows have been cancelled.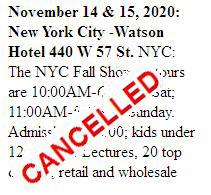 Show Schedule: See us at the following Gem & Mineral Shows:

2021 SHOWS:
NOTE: All of our New York City shows which we hosted for the last 25 years at the same location are no more. The Holiday Inn/Watson Hotel facility was closed due to Covid and was subsequently sold by the mortgage holder. The property is being redeveloped and is no longer available.
September 17-19, 2021: Shenandoah Valley Gem and Mineral Show @ the Augusta Expo Center, Fisherville, VA
October 1-3, 2021: Rocktober Show- Seminole Square Shopping Mall, Charlottesville, VA
Other shows will be listed as contracts are signed; stay tuned! If you can't wait for a show, check out our products and services available by mail by clicking on our Home Page Index!